Asphalt pavement
is the most economical of pavement choices.
Asphalt paving is mostly done for driveways, commercial and industrial parking lots, as well as foot paths
Let's look deeper
How is asphalt paving done?
The key for any pavement longevity is the base preparation and the thickness of the asphalt.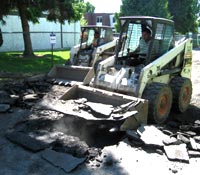 If your asphalt pavement surface is badly broken up or has many "alligator cracks", then it is important to remove and dispose the existing asphalt and to start new to ensure long life pavement. If you attempt to "resurface" over the top of the cracked asphalt, the new asphalt will crack in the areas where the old asphalt underneath it was, in no time at all.
We use bobcats, excavators and backhoes for this, depending on the size of the project.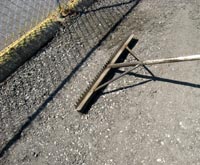 Up next, we inspect the base for soft spots and/or unsuitable fill. We then will replace the areas (or all areas) of the base with fresh road mulch gravel, which is ideal for base compaction. 4 - 6 inches of road base is adequate for any residential parking area.
Once the road mulch gravels are in place, we then grade and rake it level and slope properly to any drainage systems which may be in place.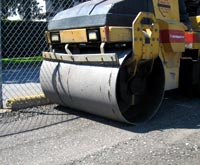 After the base is completely prepared, we then use a vibratory asphalt roller to compact the base. We use 2 tonne, 5 tonne and 15 tonne rollers depending on the needs of the project.
For residential driveways 2 tonne rollers are adequte for base compaction and for larger parking lots, which receive a heavy amount of traffic, 5 tonne and up to 15 tonne rollers are best for a solidly compacted gravel base.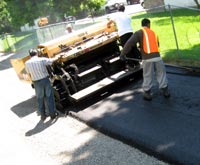 Now that the base is compacted solidly and sloped appropriately we place the asphalt with either an asphalt paving machine, spreader box or rake it out by hand.
We use a paving machine on larger parking lots or roadways, which assures a prefectly level surface.
We will typically hand rake the asphalt on a smaller residential driveway or foot path.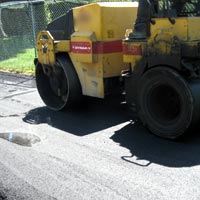 Finally, after the asphalt has been placed, we then compact the asphalt with our asphalt rollers.
Again, for residential driveways which receive minimal traffic from vehicles, we will use a 2 tonne - 3 tonne roller to compact the asphalt.
For larger commercial parking lots or industrial road ways, we will use a combination of steel drum and rubber tire rollers for compaction, in 3 tonne and up to 15 tonne weights, to ensure a tighly packed pavement surface.
Job Complete! Allow 2 - 3 days before driving a vehicle or heavy equipment onto your new asphalt pavement! Walking is fine! Enjoy!
Our complete line of asphalt paving services include
:
• Residential driveways
• Commercial and industrial parking lots and roadways
• Excavation, removal and replacement
• Resurfacing and recapping
• Asphalt pot hole repair work
• Speed bumps installation
• Asphalt crack sealing
• Asphalt sealcoating
• Parking lot line painting and signage
Some Samples of our Asphalt Paving Work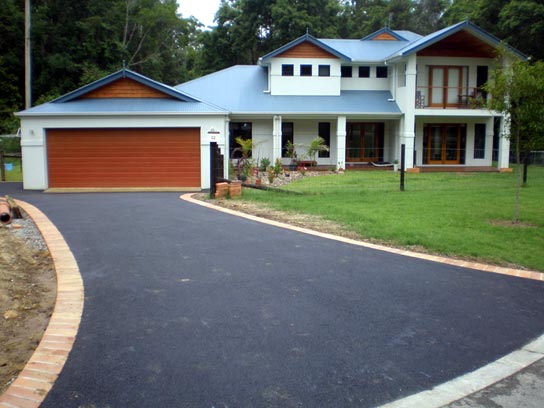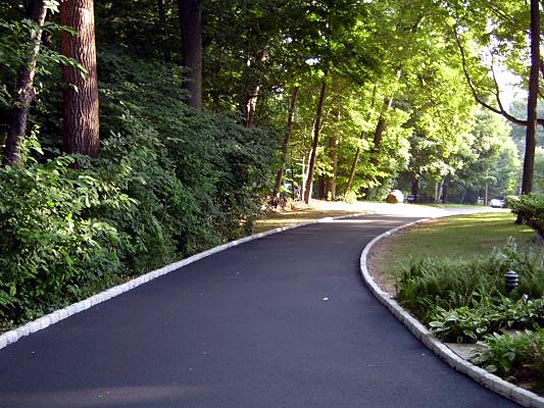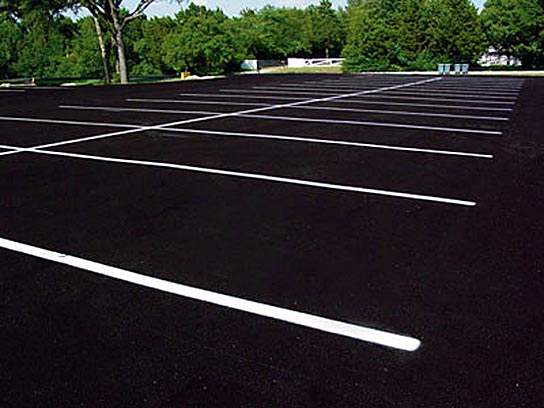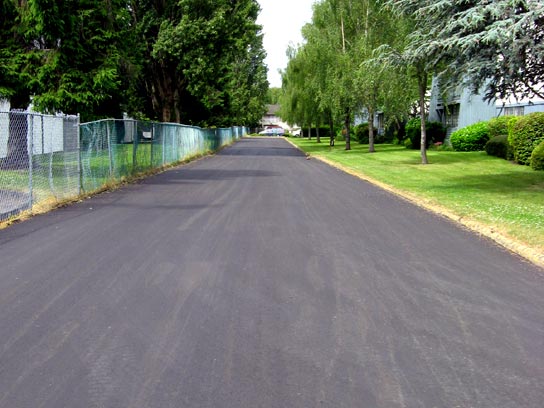 [ top of page ]