Structural concrete crack repair
is an essential method to restore the integrity of aged and weathered concrete which has settled overtime. It is a cost effective means of maintenance.
What is important is the process and materials used to achieve proper long term results.
We offer concrete restoration for retaining walls, leaking elevator shafts, underground parking lots, concrete foundations, concrete ceilings, and concrete floors.
Our four part concrete restoration process is suitable and effective for both interior and exterior concrete walls.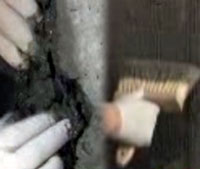 For hair-line cracks, the process of concrete crack repair starts by first grinding a wider channel into the concrete, then filling and leveling with 4 different high strength cementitious compounds.
The first layer is a crystallizing cementitious compound which activates when wet then works its way into the finer cracks in the concrete and pores, which stops unwanted leaks that can have detrimental effects on your concrete structure.
We also offer grinding and parging services. Concrete grinding and parging is useful when wanting to fill unsightly "honeycombs" and spalls and to smooth the surface of concrete walls for a more visually appealing contour.
Call us for a free consultation to determine which process is best suited for your concrete repair needs.